A lot can change in four years – this is especially true in Montana's high-tech industry. In 2014, outdoor technology company onXmaps employed 28 people in Missoula. Founded by Eric Siegfried in 2009, onX rode a wave of early growth with the popularity of its first product – chips that plugged into Garmin GPS systems loaded with land-ownership maps for hunters in the field.
Fast forward to February 2018, when onX closed a $20.3 million funding round led by Summit Partners, an international growth equity firm located in Menlo Park, California. Today, the company is in a new surge of growth after shifting its maps to smartphone apps that target a wider range of users engaged in outdoor recreation.
The firm constructed a new building for their Missoula headquarters in 2017, opened an office in Bozeman and more than doubled their Montana workforce to nearly 70 employees. Over the next several years, onX plans to hire more than two dozen people.
The success of onX is indicative of wider trends statewide, as many Montana tech companies have experienced steep growth in recent years.
A Profile of Montana's High-Tech Industries
Since 2014, the Bureau of Business and Economic Research at the University of Montana has conducted an annual survey of Montana's high-tech and manufacturing companies, documenting the sector's growing impact on the state's economy.
This year, BBER completed its fourth study commissioned by the Montana High Tech Business Alliance. The report found Montana's high-tech companies generated a record $1.7 billion in revenue in 2017 and are growing nine times faster than other sectors of the economy.
Montana's tech firms employ just under 6,000 people and pay an annual salary of $63,000 – twice the state median wage and a 5 percent increase over 2016. They expect to add more than 1,200 new jobs in 2018, an 18.5 percent increase over 2017, and raise wages by 5 percent this year, significantly faster than the 1.6 percent growth rate of all Montana employers.
In addition to reporting record-high numbers of employment and revenue, there was a significant upward trend in wages. Since 2014, the median wage has risen from $50,700 to $63,000.
Quality of Life #1 Advantage for Businesses
For the fourth year in a row, companies said that Montana's quality of life – its lifestyle, work/life balance, recreational opportunities and the beauty of the landscape – were the No. 1 advantage to doing business in the state. Montana's high-quality workforce was also a major advantage.
A 2017 study funded by the Kauffman Foundation found Montana's natural assets influenced business owners' decisions to relocate to Montana and start companies here. The state is an attractive destination for clients to visit and it helps employers recruit and retain talented workers.
James Woodson, MD, founder of healthcare technology company Pulsara, relocated his family and his startup to Bozeman from Texas. Woodson was attracted to Montana by the quality of life – a university town in a beautiful place – with a high caliber of talent and a growing tech ecosystem.
Founded in 2013, Pulsara hosts a real-time communications platform that connects emergency health care teams through mobile technology. The company just raised over $5 million from investors and employs more than 30 people.
Skilled Talent Still #1 Barrier to Growth
The top barriers to growth for Montana's high-tech and manufacturing companies are: 1) access to talent 2) visibility to customers and 3) access to capital.
This is the first year the survey asked tech firms whether it was getting easier or harder for them to hire skilled talent. Twenty-eight percent of member companies and 48 percent of non-member companies said they found it harder to hire qualified new employees. This was particularly true for larger, high-revenue businesses.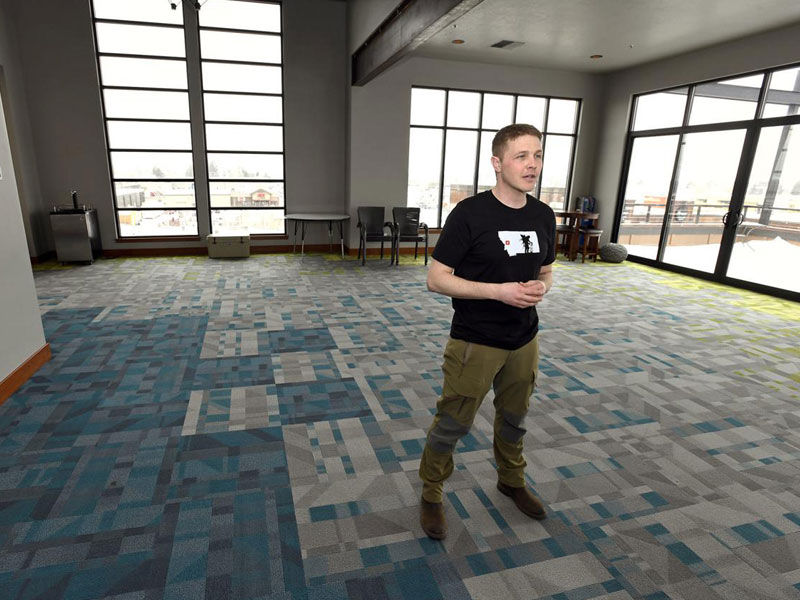 The challenge of attracting enough skilled workers is even greater outside Montana's population centers. High-tech and manufacturing companies in small towns have been working on innovative ways to make their communities attractive to job seekers.
At Spika Design and Manufacturing in Lewistown (population 6,000), Katie Spika, CEO and Bekhi Spika, CMO, built a website called Hidden Montana (www.hiddenmt.com) to highlight what's great about living in their part of the world. By sharing their love of the Lewistown area, the company hopes to engage current and prospective residents and keep their community thriving.
Remote work is a rising trend too, allowing many residents of rural areas to work from home on their farms and ranches. Whether remote workers own their own businesses, work for Montana companies or are employed by out-of-state firms, they bring home bigger paychecks and help boost the economy.
Access to Capital Still a Challenge, but Getting Better
In 2015, Montana was ranked dead last for venture capital investments, according to the National Venture Capital Association. That's behind all 49 other states and Puerto Rico. But in 2017, Montana attracted $83 million in venture capital – 10 times the amount from two years ago.
Last March, Next Frontier Capital, Montana's first venture capital firm located in Bozeman, closed its second round of funding, pooling a total of $38 million to inject into companies. The firm also opened a Missoula office and is currently looking at opportunities in Billings, Kalispell and other Montana cities.
But tech entrepreneurs have also been increasingly successful at attracting investments from outside the state. In April, PFL, a marketing technology company based in Livingston, secured a $25 million growth equity investment from Goldman Sachs. PFL opened its second headquarters in Indianapolis in March and announced last year that they will be building a new 55,000 square foot facility in Livingston for digital production and fulfillment. The firm has 300 employees and plans to add another 200 jobs in Montana and Indiana over the next three to five years.
Other Montana companies who've also received out-of-state investments include GTUIT, a manufacturer of mobile gas treatment systems based in Billings, and SiteOne Therapeutics in Bozeman, a biotech firm developing alternatives to opioid drugs.
What Does the Future Hold for Montana's High-Tech Industry?
Montana high-tech and manufacturing companies plan to hire more than 1,000 people this year at double the state's median wage. This recent surge in employment is being accelerated by out-of-state tech firms who found Montana an attractive place to set up shop.
Last December, San Francisco-based fitness technology company ClassPass announced that after reviewing 900 cities in the U.S., the firm would open its third North American office in Missoula. Brian Mitchell, head of talent acquisition for ClassPass, initially planned to hire 50 employees, but said the company now intends to hire 200 people by the end of the year.
Israeli company 4Cast, a maker of predictive analytics software, announced their decision to locate U.S. operations in Montana in April. The company is currently setting up an office in Missoula and plans to hire 100 employees. According to CEO Nissim Titan, Montana was the firm's top choice out of 19 states considered.
When global tech firms choose Montana, they sometimes draw employees from existing Montana companies. But they also help grow the talent pool and their presence raises the credibility and visibility of Montana's tech ecosystem.
Keeping up with high-tech and manufacturing companies' needs for a skilled workforce could be a key factor that may slow the momentum of growth in the sector. According to Montana tech firms, there are a number of ways leaders can help support growth:
Graduate more students from Montana's universities and two-year colleges with in-demand skills like computer programming, data science, project management, CNC manufacturing and drafting.
Teach students soft skills and technology skills like coding, starting in K-12. Employers need workers with strong interpersonal and communication skills, interdisciplinary thinking, comfort using technology, and the ability to learn and adapt quickly.
Introduce kids to Montana companies and mentors to get them excited about careers in high-tech and manufacturing. Internships, apprenticeships, company tours, classroom visits, professional development for teachers and other programs could help students relate math, science, coding and other subjects to real-world applications.
Educate underemployed Montana workers about opportunities in the tech industry. Tech companies hire a variety of positions, not just technical ones, and many can be filled with short-term training or two-year degrees.
Improve access to broadband in all Montana towns and rural areas to open up opportunities for remote workers and allow all parts of the state to benefit from the innovation economy.
Coordinate and expand efforts to market Montana to job seekers outside the state and encourage talented expatriate Montanans to return home.
Collaboration among leaders in business, government, K-12 and higher education will be crucial in training and attracting talent. Increasing the visibility of growing tech firms with jobs to fill will also help ensure that Montanans are aware of the opportunities created by our booming tech sector.